No Comments
FIVE STEPS: Sinistarr
Perhaps more than most Sinistarr's sound is proving particularly impossible to define. Is it Tech? Deep minimal? Maybe his music finds its comfort zone within the confines of the increasingly popular Juke and footwork sub-genres of recent times. What does remain clear however is its core musicality and a keen sense of place within a broader geographical context, particularly that of his native homeland Detroit. Take the producer's glistening rework of J Dilla's 'King', a fitting homage to both the anniversary of the legendary Detroit figurehead's passing and the craftsmanship of its original samples.
Amongst a myriad of faceless, 'conformity' music Sinistarr's catalogue keeps that simultaneous breadth of creativity and sense of identity, each release marking a clear progressional step in terms of the producer's ability. The first producer to have a solo release on Silent Dust's None60 other than the duo themselves with the enigmatic 'Gaiden' / 'I Am Not Invincible', NSY007 revels in cross-genre sound exploration. As Sinistarr himself explains, 'I felt like I wanted to be a part of some change in how things were done, and later on down the line, represent my influence of the city in my productions.' Extracting soundbites from all sorts of genres including Techno, Acid House, the aforementioned Juke, and Jungle, the single is certainly a glowing tribute. We're very proud to present Sinistarr's Five Steps, from an early edit of The Neptunes Frontin' and Fabio's influence in establishing his name to Super Nintendo's Ninja Gaiden and its soundtrack's influence on NSY007.
Step 1: Origins
The first track I heard that made me get into the music that I like now would be "Get A Life" from Soul II Soul's album "1990: A New Decade". I remember being 7 or 8 when I first got the album on cassette, and that basically set the tone of where I would be today – from that point in time I searched high and low for music from the UK, regardless of what it was (not naming any incriminating names).
[youtube_sc url="http://www.youtube.com/watch?v=7sjCcg123Y8″ title="Soul%20II%20Soul%20-%20Get%20A%20Life" modestbranding="1″]
Step 2: Introduction
When I first started out I was writing house and techno, mainly because of the influence in the area that I lived – a lot of DJs did house edits of songs and such. The first thing I remember producing and saving was an edit of The Neptunes song "Frontin'". I used Fruity Loops at the time on some super tiny Polk Audio speakers that came with the computer – not sure how long it took me, and it wasn't a good remix at all, but I was happy that I finished something!! I was definitely listening to Aaron Carl (who introduced me to Reason), Derrick May, Paul Johnson, Gant-Man, and other people from Detroit/Chicago at the time.
[youtube_sc url="http://www.youtube.com/watch?v=W1268Wxa9Ik" title="Pharrell%20-%20Frontin%27″ modestbranding="1″]
Step 3: Foundation
'Detroit Diesel' was definitely my shining factor in terms of my production. It was one of those tunes that just came together so quickly, in a matter of hours. I was getting healthy play on BBC Radio 1 because of a certain Fabio, who was 100% behind my music, and once I got done with that tune, he snapped it up instantly, within the week! I was listening back on it just a while ago and realize where I started it, and me taking the whole footwork/ghettotech/juke styles (these may be new words to some, I've been listening to it for years) and put them into my drum & bass production.
[youtube_sc url="http://www.youtube.com/watch?v=UrlMv_58JeM" title="Sinistarr%20-%20Detroit%20Diesel" modestbranding="1″]
Step 4: Present
Both ['Gaiden' and 'I Am Not Invincible'] were made in Renoise, a tracker software that uses vertical sequencing. I made this release in two different points in time – 'Invincible' was created when I first started working with slower tempos, which was at the beginning of last year. I realized slowing down my tempo was essential for me; it gave me space to work and really give detail to the tracks, and to add as much as I please. 'Gaiden' was made because one of my favorite games is Ninja Gaiden, the old series that was made for the NES.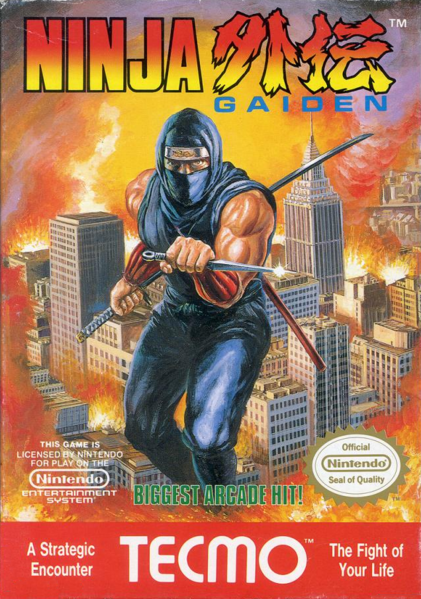 The game play is fast paced, and the music on there is STELLAR, so that idea of making a tune using that 8 bit sound and arrangement on the melodies came easy to me. What put me over the edge and made me want to stay in this tempo was meeting people like Om Unit, Machinedrum and Chrissy Murderbot (in that order) around that same time and for them to really support my new sound.
Step 5: Future
Sinistarr's 'Sound Of The Future'
I worked on this tune with my good friends in a matter of hours for a label submission for Shiftee. He has a label called Hot Mom USA (yes) that specializes in different styles and tempos of current music, and he actually asked Calculon and I to work, and we usually meet with Austin for sessions, so we all decided to work on it together. It has been getting some insane response, and we still don't get why – not because of the tune quality, but it caught the attention of people from dubstep to dnb, and we didn't label it as any particular style – just a 90 BPM track!!
Finally, what's the one Urban Essential you couldn't live without?
My Urban Essential would be my backpack; when I go exploring different cities, it's crucial that I have something to move my stuff around if I need to, and my backpack is perfect for it. I recommend Herschel, really durable packs.
Sinistarr – 'I Am Not Invincible' / 'Gaiden' is out now on None60.
Comments