No Comments
In Conversation With: Voigtmann & Tristan Da Cunha
Let's hark back to the halcyon days of British clubbing, when acid and breaks went hand-in-hand with anti-establishment and the rave was not merely an escape but a hedonistic lifestyle with an 808 pulse. This pleasure ride carried through the 90s and into the millennium; the UK was a beacon and yes, Berlin was raw and still in its ascension, but Britain was the established haven for electronic music without a doubt.
Fast forward to the here and now and it's hard to argue the case anymore. With the UK losing more than half of its night-time venues over the past decade and the continuing threat to even the most established spots, there has certainly been a major shift.
In light of this, we were able to spend some time with two influential figures of the UK scene – Voigtmann and Tristan Da Cunha – on the eve of their appearance at Gottwood, in order to pick their brains as to the state-of-play for British nightlife.
Voigtmann is the co-founder of Toi.Toi.Musik, a London-based party with a rapidly growing reputation. During this time, Voigtmann has also developed his own reputation as a creative and versatile DJ. Such is his stock that, upon its reopening, he was recently named as one of a new generation of Fabric residents, playing alongside the likes of Ricardo Villalobos and Dorian Paic.
Tristan da Cunha's career began over 15 years ago when the then 21-year-old earned himself a residency at the legendary Leeds party Back To Basics. It was there where the Yorkshireman honed his craft and is now regarded as one of the UK's most talented and infectious selectors. Furthermore, 10 years of that spent A&Ring for 2020Vision recordings allowed Tristan to refine his ability as a tastemake and a producer, most notably paring up up with Brawther as Dungeon Meat.
Here's what they both had to say about nightlife, festivals and establishing longevity during such transient times for British clubbing.
With so many parties springing up then dying out, what would you suggest is the key to longevity and what makes a successful, long-running party series?
Tristan: The short answer to this would be dedicated promoters, killer sound, hot selectors and an up-for-it crowd. These are the raw ingredients for any good party and if you want it to last a long time then you have to make sure these things are always in the mix.
Claus: I think more importantly, having a clear identity – a clear musical statement. Also you need to care about sound, security and comfort.
Tristan: I agree. First and foremost the people behind it have to be dedicated to the core and do it for the right reasons, with good intentions – and place an emphasis on the music (sound systems, residents and guest selectors), production and ambience. The key ingredients in my eyes. If they make sure these aspects are done to their best abilities or budget then, I think, they'll naturally attract the right crowd that hold the same values. A crowd that are going out to experience something special and get lost in the music.
It really is a team effort though. Promoters provide the perfect environment but it's up to the crowd to bring the vibe, there's a dialogue that needs to take place between the DJ and the audience. It's a two-way thing but not everyone who goes out to parties understands that.
What role do festivals have to play in the resurgence of electronic music here in the UK and how do you see that working hand-in-hand with British nightlife?
T: A resurgence implies that there's been a bit of a dip in the popularity at some point. But in my eyes, the scene has been on the rise each decade, growing and spreading further across the globe, as it seeps into popular music and culture.
But, I would agree that festivals have helped in exposing the music to larger audiences and have created umbrellas for all the different shades of electronic music. It seems clubs and festivals work hand in hand when it comes to introducing the next generations to the music.
C: Festivals have always been a key ingredient for UK nightlife. Unlike what I grew up with in Germany, in the UK, it seems people are much more keen to get together.
So which would you say comes first, the club or the festival?
C: Some will go to a festival and experience the music and art forms for the first time, and then go to clubs to hear more of it and of course vice versa. We're also seeing many club brands being brought into festivals, bringing their particular band of artists and a regular crowd. [Nowadays] you go to a festival and there's ten to fifteen club brands or parties that are curating areas over the weekend. So from this point of view the clubs and festivals are really starting to become inseparable.
Claus, putting on a party seems like a massive undertaking with a lot of time money and effort involved. What was the moment that inspired the idea of holding your own party?
C: This idea came seven years ago, simply for the fun of bringing people together. Not much has changed since. The surroundings have made the act of throwing a party a lot more difficult but the essence is to have a good time with your friends.
Of course the closure of Fabric last year provided a wake-up call and thrust UK nightlife into mainstream media. Both of you are very closely affiliated with the club and were involved in the campaigning that eventually resulted in it re-opening. How worrying is this trend of closures and what needs to be done to counter it?
T: Well the blatantly obvious issue which was at the heart of Fabric's unjust situation was the drug policies and laws, and the way that the clubs and public are being policed and treated in general. The legislation needs changing and the way in which clubbers are being perceived by the authorities needs addressing.
C: Clubbing is almost treated as a crime. You almost need to drop your pants at the entrance. It has become so controlled, whereas it used to be complete hedonistic freedom. The more clubbing moves into the commercial light, the worse those controls will become.
T: Also, where's the education for safer drug taking? These younger kids are going out hitting it hard and fast because they don't know how to pace themselves. Or, more importantly, they don't know what's in the substances they're taking! Surely drug testing would be helpful and be a good preventative move. It's been done in other countries for a while now and the results have been positive. We could go on and on with this subject though so I'll leave that one there.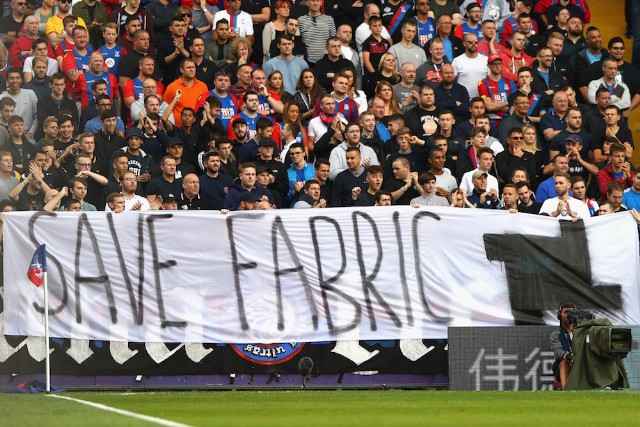 So are the authorities the only ones to blame? What about the clubbers?
C: A lot of people are seeking freedom from their heavily-controlled day-to-day life. But people also need to be aware that something has to come from their side too. It's being made increasingly difficult for promoters to put on parties on. There needs to be an understanding on the clubbers side that they, for example, need to travel longer to find hidden parties with that freedom.
A lot of great [party venue] heritage has been destroyed. Nevertheless, there are ways [to keep going], but it involves being more creative as a promoter and more willing as a clubber.
Saying that, do you think that there's been an impact on the 'clientele' as well?
T: When I first started going out the crowds were a lot more mixed with straight and gay and people of all different colours and ages coming together. Nowadays I don't see that as much which is a shame as it makes parties much more interesting when there's more cultural variety and sexual persuasions all mangled together.
Now people are living virtual lives, going out to parties and clubs and living through a screen. Smartphones in clubs have definitely changed the dynamic and thankfully we are starting to see some of the clubs and parties have a no-phone policy, sticking stickers on cameras etc. Just put the phone down and be in the moment, open your ears and get on down.
At the end of the day, people are still going out for the same reasons, with the same intentions: they want to dance and listen to good music, free themselves of their inhibitions, escape from the daily grind, connect with themselves and other kindred spirits and lose their minds. Nothing has changed there and I doubt it ever will.
Earlier we mentioned Fabric and both of you are very close with Fabric's long-serving resident, Craig Richards. Tristan, you of course were a resident at Back to Basics in Leeds and Claus you are a resident at your own party Toi Toi, as well as being one of the newest Fabric residents. What does it mean to be a resident and how important is a resident to a party?
T: I think it's extremely important when it comes to giving a club or party musical direction and identity. But, at the same time setting the standards for the dancers who come each week, each month to the party. It means there's always going to be some consistency, as well as a growing connection and relationship between the booth and the dance floor. Unfortunately, it seems to be a dying breed these days (Craig being one of the few shining examples).
In the golden age of residencies it was all about the resident and people would go to a party specifically to hear them and their music. Nowadays it's all about big guests in big fonts, playing hour and a half sets, with bookings based on how well you are marketed online. Don't get me wrong, there's some really solid parties with really amazing residents, the problem is they don't often get the recognition they deserve.
C: The resident is the backbone of the party. We play before the headliners or close 'at home' after and we have the responsibility to put the guest into context. A certain degree of versatility is key in my opinion. Craig is the best example – no matter who plays before or after he will have the right response. That's how it's done.
So, as sounds and musical tastes have changed, how have you kept your nights relevant?
C: We've tried to put on classy and timeless sounds from the very beginning. We do not follow any trends hence we do as we have always done and hope the people understand it.
And Tristan, you started out in a time where flyers and word-of-mouth were the best ways to get your night known. These days, there's various forms of social media and digital platforms with which you can push your night. What do you think is the most important aspect of promotion?
T: A lot of stuff I see out there is style over substance, but if what you're doing as a party or collective adds some value to the scene and people's lives, then news travels fast and things can quickly become well known or popular. Having a solid brand with great online and street presence is obviously very important, but if it isn't backed up with some substance and something that makes it stand out from the crowd then it isn't going to last very long.
You need a core following that you can build on and you have to keep them interested and excited, otherwise there's twenty other promoters out there trying to snatch their money and attention. It's a tough game these days with so much competition, so promoters have to be really on the ball and cover all bases, on and offline.
So from Leeds in the late 90s to Hackney Wick in the 2010s, how have things changed and what, in your opinion, is the current state of British clubbing?
T: Obviously a lot of things have changed like technology, fashions, laws, drugs, the business, marketing etc. Of course there's always going to be an air of nostalgia, but I'm not one to say, "Oh things ain't what they used to be!"
I'm so happy that I got to experience the music and scene I love in its 'golden age'. When house and techno were booting off massively, record shops were the nucleus of the scene, people used to travel far and wide across the length and breadth of the country just to see a DJ or go dance at a party. There was more mystery to the music and the people behind it.
Nowadays with the internet, none of that really happens because it's a global village with everything you want just a click away. Generally though, I think the clubbing and festival scene is pretty buoyant. The parties have killer sound systems and production, they're a lot safer, the music is still fresh, exciting and evolving, and the art form is still being preserved as well as advanced.
Discogs, YouTube, Shazam and Spotify are helping everyone discover music and go deeper under the skin of the genres they love. But, I suppose this aspect has made it harder for everyone who wants to be a DJ to stand out or have their own unique voice. It still takes some serious digging and dedication to discover the dusty gems.
Like I say though, from my perspective it's all really exciting and I'm even more obsessed with it, even more than when I started… so that can't be a bad thing, can it? The enthusiasm and hunger of the next generations is what's keeping this wheel turning.
Claus, Toi Toi celebrates its 7th birthday this year, with 2017 certainly being a hallmark – what do you have in store for the second half of the year?
C: We have a brand-new hidden space in East London and will continue to bring our sound. We're doing international tours (US and South America) and showcases all over Europe. 2017 seems to be a good year so far and we hope it will continue in the same way. It's all extremely exciting.
Now, looking forward to Gottwood festival, which artists are you most looking forward to seeing?
T: It's such an incredible line up! Personally I think it's one of the best for underground music and Gottwood pride themselves on not booking the same old names that you see on every other festivals line ups.
I'll be excited to see Nicolas Lutz, Francesco Del Garda, Zip, Craig Richards, XDB, Frenchy and Voigtmann of course. All the One Records crew, Al Dobson Jnr, Lindstrom, Ruffy's Lab, Red Axes Live, the list could go on and on! I'm also excited about some of the things that I don't know so much about and hearing some selectors I'm not so familiar with.
C: I am not so focused on single artists. I am going there to be floating about, hoping and expecting to be inspired by the performances on show.
And what should we be expecting from you both?
T: Hmmmm, it's hard to say what to expect because I don't even know myself what I'm going to be playing. All I can say is the dancers can definitely expect good energy and bad-ass basslines.
C: Well…It's not my place to describe my own music – I leave that to the people who see me play.
T: Music that puts the ass in ascension and the "woo" in GottWOOd.
Finally, Tristan, as a man well known for his effervescent personality as well as his selection, what advice do you have for those DJs striving towards longevity in a constantly changing scene?
T: 1. Just do you. Collect the music you love and play it with heart. If you do that then you'll shine through and enjoy a career with longevity. You can never please everyone so don't even start to try. Just make sure you believe in the music you are playing, be authentic and always strive to be better and improve your skills.
2. Dig deep in the places others aren't looking and leave no stone unturned. There's still plenty of gold to be found out there but you have to sift through more shit to find the nuggets.
3. Keep an open mind and an open heart and remember, your attitude determines your altitude in anything you do. Treat people with respect and recognise that you are just one cog in a machine not the whole machine.
4. Success is something you attract to yourself so don't chase it, stay true to yourself and work hard, it'll come to you, but not overnight.
5. Don't rush into it and do things you'll look back on and regret. Quality not quantity always gets more respect and maintains more integrity and both these things are essential for a long career.
6. Following your art and your heart is never the easiest path so be prepared for plenty of obstacles and challenges, but as long as you have a dream, a goal and you keep moving forward closer to it you will be able to stand the test of time and put your head on your pillow feeling happy that you are making progress.
7. Have gratitude and be humble. Always help others around you follow their dreams and ambitions. I wouldn't be here writing this if it wasn't for certain people extending their hand or expressing their belief in me. And finally, try and do everything with a touch of class.
Amen! Catch Voigtmann and Tristan at Gottwood Festival 8-11 June. Tickets are sold out, but there's a few knocking around on resale at time of writing, so be quick!
See you in the woods.
Cover photo credit: Larry.J
Comments