No Comments
Spotlight: Eveson
July sees the release of Eveson's debut with Halogenix on Ingredients following a two-year hiatus, displaying a more sci fi-inspired sound and charting yet another change in direction for the prolific producer proceeding 2012's highly experimental The Last Summer of Love LP. For the latest in our Spotlight series, we caught up with the artist to find out what he got up to during his hibernation and what were the influences behind this latest 12″.
Welcome Eveson, thanks for taking the time to wax lyrical with us! Your new 12″ on Ingredients is a stunner and adds to a prestigious line of labels you have already released on. Tell us how this union between Ingredients and yourself came about?
I'd been living out in the French alps for the last year or so and was back in the UK/London to play some gigs, so linked with Bailey to do a guest mix on his Ministry radio show to promote a few tunes I had dropping on various compilations towards the end of last year. One of the tunes was 'Cosmos' (Part of Horizon's Dreamthief 4 LP) which pricked up the ears of Clive Ingredients who happened to be listening in, he then subsequently got in touch asking about the possibility of a release on Ingredients. I was happy to oblige, as it's a strong and contemporary label with an audience that may not typically check for my usual stuff, so I offered up 'A Dystopian Romance' which was snapped up immediately and set about completing the 12″.
The aa side 'A Dystopian Romance' delivers atmospheric soul with the trademark poise and swagger that has become associated with your production over the last 7 years. With this being the first release following your experimental, genre-skirting debut album, how did you approach producing a more traditional dnb track? 
After spending so much time writing music for an LP that was pretty much entirely focussed on being a listening experience, I was looking to write some new material that I could actually use in my dnb sets again and work the dance-floor, whilst retaining that extra dimension of musicality, detail and craft that I (hope I) achieved with the album [You most certainly did!]. I didn't want to retread old ground, sampling jazz/soul riffs and slinging them over breaks, and although the main body of my back catalogue has a more organic 'liquid funk' aesthetic, I've always been really into the deeper, moodier sci-fi sound of D&B, and was looking to create something both soulful and uplifting, with an undertone of menace. Unlike most of my music which is often fired out in a couple of sessions, this one was a long time in the making and took a good while to get right, it's been a real pleasure dropping it in my sets though.
The A side, 'Grey Dawn,' sees a collaboration with rising star Halogenix. This has obviously been a fruitful partnership as another piece by the pair of you has just seen a release on Critical. How did the two of you start working together and how is the project divided between the pair of you?
I actually lived with Halogenix in London for a while, I was finishing my album at the time, which was mainly breaky jazz, folk, psy and blues -influenced and Halogenix was on a more clinical, techy tip so we never worked on anything while we lived together, although we often spoke about it. With the Ivy Lab stuff and more recently his solo stuff, Halogenix's material started to lean more towards the liquid side of things, and as I was pushing for a more sci-fi aesthetic with my Ingredients 12″, I figured it would be the perfect opportunity for our respective styles to meet in the middle. The next gig I had in London, I swung by his with an idea of the kind of tune I was after with Grey Dawn. We fired up the Virus, threw in a bunch of samples from each of our collections and we rolled out the main body of the tune in one session, I then spent some time finishing off the detailing and arrangement in france and sent it back over to him for some final touches and a fine-tuning of the mix.
Where the Ingredients 12″ was more an idea and arrangement I'd brought to the table that came to fruition with Halogenix's skills and on-the-spot improvisation, the Critical thing 'Baby' was more about me lending a touch of my 'soulful' swagger to his half-time future-soul sound that he and the Ivy Lab guys had been playing with recently, so we took each tune for our respective projects. I prefer to work in other people's studios when it comes to collabs, I'm not particularly technical in the way I do things and so much prefer to jump on the keyboard, get excited about sounds/samples/ideas whilst someone else handles the technical aspects with more proficiency than I might!
Did you experience any difficulty writing music again when following up such an acclaimed LP as The Last Summer Of Love?
Yeah, like you wouldn't believe… I'd become far more comfortable writing 'non DJ' music at a slower BPM and working at 170 had started to feel quite unnatural, but The Last Summer Of Love's tunes only really worked as part of a larger, cohesive project. I wouldn't know what to do with them outside of an album format as none of it really fits neatly into any other genres so trying to release them as singles doesn't seem like a commercially viable option. I made a few more in that vein which may filter out in some form, but all in all I was happy to leave that project as the summation of all my influences to date and go on to explore new territories and production techniques. I took a sabbatical after the album and spent the following two winters snowboarding and running club nights in the alps where I was playing a lot of house and techno as well as d&b, and since then I've been experimenting a lot, switched DAW from Reason to Ableton and I'm only really just starting to get back up to pace with my output. I have so many random tunes and sketches across an assortment of genres and styles from the last couple of years, but things are starting to come together again…
Another aspect of your career that can certainly not be ignored is the artistic side, having designed the sleeve art for several big name labels along with the superb artwork and merchandise for your own album. So what came first? The art or the music? And how does each inspire the other?
I've always drawn for as long as I can remember, that and riding bikes are probably my two most long standing 'hobbies' so I was always going to be involved in visual arts in one way or another. I was obsessed with music from the age of 11, but those were the years where you'd need a full hardware studio to get started, so it wasn't really accessible for me to get into. I always messed about trying to make stuff with whatever I had to hand – at school for instance, I'd borrow a four-track tape recorder and try and write rave tunes with mates using the music room's Casio keyboards and a drum kit (we won a school-wide 'anti drugs' song contest this way, I played keys, rapped and sung in Patois haha). Then in 1998 Music came out for the playstation which was my first experience of any kind of DAW and I wrote loads with that and began to learn the basics of beat programming, arrangements etc.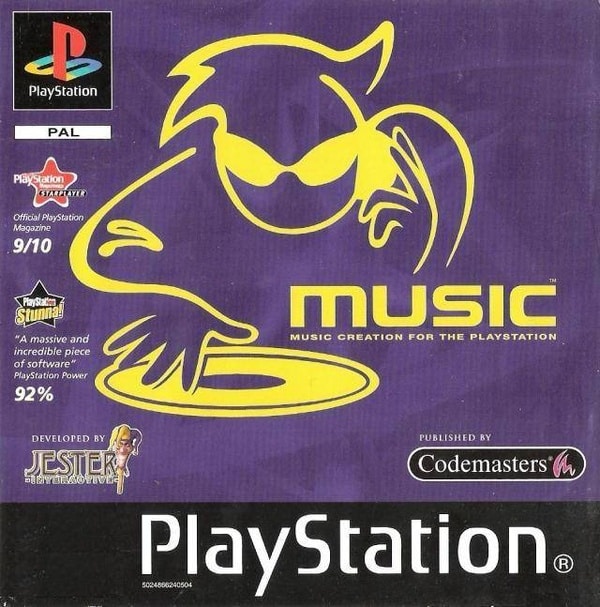 I was at college specialising in graphic design at this point and fully into d&b so the music and associated record sleeves massively influenced the early style I adopted. The techy layered vector kind of style of the late 90s steered me towards learning photoshop inside out, whereas the scrawly illustrations by Mr Jago and Will Barras in Knowledge Magazine got me into street art and inspired me to continue working with a pen and paper. I suppose the graphical illustrations i've come to create that are a mix of freestyle pen work and laboured and planned design are entirely a result of my d&b upbringing. It wasn't until I went to uni to study graphic design that I was able to start writing music 'properly'. It wasn't until that point that I actually had a computer of my own to work on, and with a copy of Reason and a 10 minute tutorial from a classmate I was well underway. If I had been born 10 years later, I'd have been one of those kids that started writing beats at the age of 12 or something but I'm kinda glad I had a few years of skating, partying and being a reckless kid before I got involved with production, as I became a hermit pretty much overnight. A busy social life isn't really do-able if you want to get anywhere with music production.
Being quite the expressive character creatively, are there any other passions that you have in your life away from art and music? 
It was always extreme sports when I was young, if it had wheels and I could do jumps and grind rails on it I was there. I spent pretty much my entire teenage years gapping stair sets, jumping off roofs, riding trails etc. which all kind of merged into snowboarding which has shaped my life since. I've been doing winter seasons in the alps, constantly moving between England and France for the last ten years now, and, with the club nights I run I have a pretty reliable business out there, so unwittingly, doing seasons has become my 'sensible and grown up' option. I still skate and ride bikes, but in more of a cruise-y 'fair weather' fashion these days.
Following quite a hectic few years of release from 2007-2012, you have been on somewhat of a hiatus since the album's release in late 2012. What can we expect to see from you in the not-too-distant future in regard to both your artwork and your music?
As far as the straight up d&b goes, I'm just gonna roll out some more singles for a while, and see where that takes me naturally. I've got a few more collabs to get finished as well, including something with Mako that was left sounding like absolute fire, so that's gotta get done. I'll also be doing some new artwork for both V and Metalheadz soon. As for my label, Channel 82, which became my main focus in terms of artwork, that got put on hold when I was doing my album and it's been dormant since, so that'll be getting fired up again with an EP penned in for later in the year. I've also got another project well and truly underway that's based on my early 90s influences… Dusty, nostalgic, crackly atmospheric rave music between 130 and 160 BPM basically. That'll be under a different alias and i'll be looking to push it as an entire art package focussing as much on the visual elements as the music. It started off as a side project but it's quickly turning into my main focus all too naturally.
And finally, what is the one Urban Essential you can't live without?
I want to say something cool, but I gotta say my iPhone, especially in London. They've eliminated the whole getting lost thing. I think there's meant to be some kind of romanticism about heading to a city and just getting lost, but wandering around aimlessly in some pissy back street searching frantically for the club you're meant to be playing at in an hour is not the one, so big up GPS technology.
Eveson & Halogenix – RECIPE042 is out 21st July. Grab your vinyl via Ingredients' official store.
Comments