Review: SuncéBeat 7
The local's call it bonaca. It only happens at night.
When the wind dies down, after dark, the Adriatic sea settles into a shiny sheet of thick black oil and a hushed calm settles over the Garden in Tisno, Croatia. But not for long. Because dancers and music connoisseurs and aficionados of magical adventures have gathered to celebrate life at SuncéBeat with a week's long programme made up of world class house and electronic DJs.
This was the 7th year of SuncéBeat and my second visit to the warm welcome of the local town of Tisno. Last year's virgin experience was euphoric. For a whole calendar year did I manage to live off the memories of high quality music moments, boat party raving and new-found life-long friendships. I was desperate for another fix.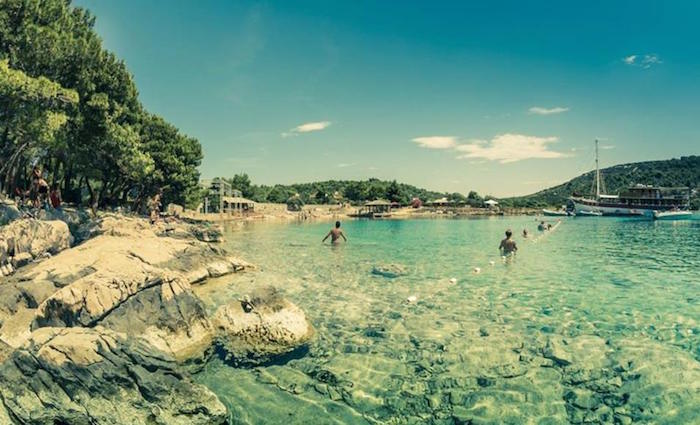 This time around, top of my personal must-hear DJ list for SuncéBeat 7 were The Black Madonna, Anane Vega, Natasha Kitty Kat Probert and Sam Divine. They did not disappoint. And neither did the other international giants returning such as Black Coffee, DJeff Afrozilla, Atjazz celebrating his 20 years in music, plus Osunlade and his Yoruba circle, Louie Vega and Rich Medina to name a few. There had been a change within the organisation with the departure of both key DJ and boat party curator Kev Beadle plus co-organiser Dave Gardener, who had up until then made a mammoth contribution to the history and success of Southport Weekender from which SuncéBeat had sprung. This year also saw a full-house in ticket sales with a sold-out capacity of 3000 revellers.
The week hit it off with a bang on Wednesday evening.  Arriving on the Beach Stage after-dark is a must in order to tap into that SuncéBeat magic. Feeling the bass vibrate in the soles of your feet and then turning the corner by the DJ booth to be hit full-on by a Funktion One sound system, coloured lights bouncing off the black sea and throngs of happy, smiley, bouncing faces is unforgettable, especially for first-timers. This year, the outdoor nightclub Barbarella's opened a day early with Souldynamic, David Fiorese, Luis Radio and Mark Stone on the bill. The lure of a free shuttle bus for one night only meant that many went in hard on their first night of sunset-to-sunrise raving. The Beach Stage however proved the far more sensible choice for those who already knew from experience this was going to be an extremely long week; Horse Meat Disco providing the night's glamorous disco soundtrack with tunes such as Eddie Drennon's 'Disco Jam'.
2016's boat-party programme had been expanded with the addition of a second boat called The Martina, doubling the opportunity to try out one's sea legs and dance to the rhythm of the waves. Thursday's boat party line-up with Sean McCabe, Henrik Schwarz, Detroit Swindle and Osunlade on the trusted Argonaught(y) had us positively tap-dancing in anticipation while waiting on shore. Sadly Osunlade's travel issues meant that we were one DJ down upon departure. It also took another hour being stuck at port on a stationary vessel without any formal explanation while Sean McCabe tried to hold it together before the Argonaughty could set sail. But this early in the week it did not hold anyone back from sharing the music and dancing love-so-special to these DJ boat voyages. There was abundant goodwill. Henrik Schwarz worked a stonking set of a set-up consisting of a Roland mini keyboard for live chords and melodies, Native Instrument Traktor F1 trigger pad for parameter effects and more bells and whistles to woo the crowd. Channeling through Ableton he confidently stem-DJ'd Raul Midon's 'I Can Fly' to a bouncing boat. The Dutch Detroit Swindle DJs' vinyl set sadly did not fare so well against the rocking of the ship but our sea legs did just fine.
Thursday's on-land line-up at Barbarella's was solid too. Many danced in tribute to house music trooper and club photographer Owen Money who sadly passed away earlier this year. The #FTLOM fundraising friends gathered with DJs Soxee Sioux, Man Called SOJ, Deejay Fiddla and Geoffinho to the sounds of 'For The Love Of Money' by Pascal Morais, Rancido, Tellaman and Maikal X.  A new addition to the festival site was the Olive Grove stage making for bountiful albeit very dusty under-the-stars dancing at the beach.
The journey to Barbarella's around 1am was magical travelling by water taxi, cruising past Tisno, piercing at high speed through the dark waters of the Adriatic Sea by the light of a Capricorn full-moon. We arrived high on life in time for The Black Madonna's much anticipated inaugural SuncéBeat set. Booked on the back of her Garden Festival performance at the same venue the previous year, she promised to work it to the bone with a fresh, no-nonsense, inclusive attitude to her dance-floor-destroying selection. TBM jacked us from the off with the famous words of First Choice's 'something for your mind, body and soul' sampled by Alvaro Martin for 'Let No Man'.  We were in! Barbarella's pumped to Smith N Hack's 'For Disco Play Only'. TBM taught History of Dance with the 1988 acid bleeps of Annette's 'Dream 17'. By this time it seemed only fitting that she should be honoured for services rendered with my donation of a pair of vision-enhancing Love Specs (a gift from a stranger at SuncéBeat the previous year). I couldn't see out of them anyway. As she peered over the edge of the specs she continued to treat us to jazz funk and afro-beat, ending her 2 hour music adventure with Alicia Myers' 'I Want To Thank You'.
Back on the Beach Stage on Friday night, the dynamic Natasha 'Kitty Kat' Probert spun nothing but happiness with uplifting house and classic disco edits, stamping her reputation assertively on the dance floor with cuts such as Moodymann's rework of Norma Jean Bell's 'I'm The Baddest Bitch In The Room'.
The idea was to opt for calmer Friday revelling but after sitting down for a wholesome meal at the on-site Magnolia's restaurant with the Probert family, and fellow music-loving Scots who had made the pilgrimage in support, the SuncéBeat magic made the night do a complete U-turn. By sunrise, and after setting a world record by fitting 16 house heads into a yellow van, we arrived from Barbarella's at the dinky Tisno beach bar Vortex. There, at 7am, the unofficial after party was already jumping to the afroliscious sounds of Florida DJ and producer Mikki Afflick. Playing her new release 'Soul Sun Vibes', she popped off. A new day had begun while another hadn't even ended and thus Saturday somehow disintegrated.
On Sunday the mother of all boat parties was due to take place with a double sailing of both the Martina and the Afronaught to what was billed as a secret location, with DJs and food catered for on a distant island shore. On the Martina music was in the hands of dream team Osunlade, DJeff Afrozilla, Manoo and Atjazz. Energised by this tantalising lineup, lots of smiling faces boarded for a golden sail towards the island BBQ. There was still plenty of goodwill even though the Martina did not inherently lend itself to the space and dynamics that a good ship jump-up needs: no cover from the sun, the dancing deck is too small for the overall capacity of the boat and dancers are crammed together like sardines (pardon the pun). The rest of the boat's spaces – the second upper deck and the spacious bar cabin – are underused because there is no decent, loud enough sound system covering beyond where the DJs are set up. Atjazz and Manoo did well even though the system fell silent when the main power cable overhead somehow became unplugged. Arriving at the island, the queue for food was so painfully long that many who had paid for the inclusive meal ticket gave up on being served. The island also turned out to not be an island at all but rather a dusty, rocky, local tourist beach that some from SuncéBeat had managed to discover by car. Not being well fed nor watered and not having expectations of the event description met made for a lacklustre return journey and DJeff and Osunlade had to work hard to lift spirits at all.  This was far from magical even though Manoo's rendition of Emilie Nana's 'Music', which became one of SuncéBeat 7's summer anthems, worked miracles.
Within an hour of returning to dry land the second highly anticipated boat with Jonny Miller, Soul Dynamic, Anane Vega and Black Coffee was due to set sail. However, while everyone was let on board it took another hot and uncomfortable hour's wait before punters were allowed on the top DJ deck, thus delaying proceedings yet again. The crowd was also a contradictory mixture of glamour house meets afro roots which made for a very edgy, aggressive mood. Perhaps Black Coffee has by now transcended his ancestral house roots and has started appealing to a much wider audience; perhaps people were hoping to relive the legendary party at SuncéBeat 5 when he nearly sank the boat. Either way it took a long time for people to stop pushing and stargazing, and settle into a groove. While individually all the DJs on the line-up can hold their own, in combination their musical journeys didn't seem to match. Across all the boat parties there were quite a few DJ combinations that sounded thrown together. It was lacking glue. And timekeeping. And working equipment. However, it was heartwarming to observe that by the time Anane Vega stepped up a rush of female fans had surged forward in admiration, thus uplifting the whole boat with positivity when she closed her set playing the Latin fire of her own 'Soy Latino'. By this time The Martina had almost returned home which meant that Black Coffee played an unsettled set while the boat lay restless and in limbo in the Adriatic Sea. For over one hour his set clashed with the noise-bleed of the midnight Beach Stage while he struggled to play on. It was a poor decision.
On mainland rumours were going round that Barbarella's was closed that night due to an alleged generator fire. This turned out to be the poorly-communicated, unorganised truth when Jonny Miller, DJeff Afrozilla, Jeremy Underground and Louie Vega appeared on the main stage at the actual Tisno festival site instead. It was a bit like stomping around in a giant dusty cat litter tray for hours and hours and hours…
Monday unfolded through breakfast in Tisno by the bridge, lovely conversations over coffee in a local cafe, human connections while wandering the crazy paving paths of the festival site and by munching fresh tuna steak wraps from one of the summer eateries on the festival site.  It was a much needed gentler day even though Terry Hunter still turned out the Beach Stage with a whooping classic funky house set that included MD-Express 'God Made Me Phunky'. We were blessed that way.
The SuncéBeat adventures came to an end on Tuesday with a long overdue beach day sipping prosecco from the Champagne Bar while bobbing in the sea on lilos to the versatile sounds of the daytime Beach Stage DJs. More conversations, more connections and the realisation that this second year I had enjoyed many more new adventures. New experiences included the delicious meals at Carmen, the excellent vacation packages so well put together by Dan Hipgrave at Love Music Travel, a 24-hour dance marathon that included 2 boat parties back-to-back (and no, this is NOT to be repeated), and vibrant DJ sets by so many more strong female DJs (thanks to Gavin Kendrick for moving this in such a positive direction) who all sparkled both at SuncéBeat as well as at the unofficial Vortex after-party at 7am. And still so much yet to explore. Somewhat less magical was the lack of free WiFi on the Garden Festival site (come on people, small token of goodwill?), the extremely bad trip hazards with unlit and unmarked crazy paving paths, the cat litter dance floors, no first aid on festival site after-dark plus unorganised and disconnected boat parties. Yet Tisno itself is a wonderful town full of kind, hospitable people who love that the mature and mindful folk from the SuncéBeat music family settle in their homes and cafes and restaurants and ice cream parlours for one week each year. These people, the sea settling into its bonaca calm at night plus the deep human connections that are made with friends new and old while dancing to quality music makes for an unforgettable experience. It is that love that stole the show at SuncéBeat '16.
Written by Auntie Maureen
With much thanks to Nick Connoly and Gavin Kendrick.
Tickets for SuncéBeat 8 are on sale via the official SuncéBeat website.
Comments