Five Steps: Code | Subtle Audio
For a movement that can credit its origins to the most important six second drum loop of all time, we have sure seen a kaleidoscopic evolution in sound – Jungle and Drum & Bass having continued to mould, rethink and reinvent itself constantly and consistently for a number of decades right up until the very present day. 'Footwork', 'Drum & Space', 'Neurofunk'… the list goes on. No stone left unturned so to speak. In light of this, how do we react to labels and artists that not only eschew this paradoxical evolutionary norm, but define themselves upon and actively celebrate such origins? Why does the music feel the need to distance itself from its past, and how many sub-genres can we continue to place, or would want to be placed, under the loose 'Drum & Bass' umbrella term? One such label more than any other in my opinion, has set the bar exceedingly high in terms of its development of the sound. A label that continues to extract originality from a source that has been plundered so viciously over the years, Subtle Audio has never faltered on the quality front since its debut some nine years ago, closing 2013 with a series of personal, undiluted projects across its two primary labels. And with the exciting prospect of Subtle Audio Volume III in the pipeline and scheduled for release in the not-too-distant future, now more than ever is the right time to revisit the origins and development of one of the premier leftfield labels in the game today. So without further ado, we're proud to present label owner Code's Five Steps, from release number one and Reinforced Records' influence, through to support from Aphex Twin and Thom Yorke, the development of Nic TVG's debut album Then I Disappear, 2014 and beyond.
Step 1: Origins
I don't think I can remember the first track that really caught my attention, but I do remember dancing around my parent's living room to various chart music stuff in the early to mid-eighties. My mother had some compilations on vinyl – "Chart Hits 81" is one I can remember. Had stuff like Ultravox – "Vienna" on it. Not that I remember hearing that one at the time. I do remember "The Birdy Song" by The Tweets though – hahaha. I guess that was slightly more digestible for a 4 year old! Still, I'm sure being subjected to that kind of electronic sound from an early age helped my taste to develop sub-consciously. My first vinyl was a Christmas present in 1986 – "Hits 5". "Walk Like An Eygptian" was a big one in the living room, as was "You Can Call Me Al" by Paul Simon. Michael Jackson was a favourite around that time too of course. I guess all this was influential as it got me interested in grooves and dancing from an early age.
Anyway, as I got older I continued to enjoy music but the only access I had to it was via national stations on Irish radio or music shows on TV like "Top Of The Pops" and later on another show called "The Beatbox". In the early nineties I began to gravitate towards the new style of electronic dance music that was infiltrating the Top 40. I liked Snap, Inner City, Soul II Soul, Erasure, some of The Pet Shop Boys stuff, that kind of thing. There was a dance show broadcast on radio every Saturday night on 2FM in Ireland. I used to tune in quite regularly around that time. I liked hearing new stuff that you couldn't otherwise hear on the daytime shows.  Another year or so later and the early rave sounds were really capturing my imagination. I had started secondary school, so I was around 12 or 13 years old. When I was in 1st and 2nd year there I remember everyone was into metal, rock and grunge, no-one was into dance music, apart from one guy who used to record the dance music videos from MTV on VHS tapes. He would bring them in and I'd go home and watch through them. It was like getting a transmission from a far away planet because I didn't have access to satellite TV and not a lot of people I knew did either. I heard a lot of new stuff I liked on those videos. Also, on the radio I remember hearing The Shamen and really getting into their style. Then the same guy from school loaned me a copy of The Prodigy's "Experience" album. I was hooked! I think that's when it turned from an interest to an obsession!! I then began to try to hunt down more music like theirs, which eventually led me to Hardcore / Jungle. Hearing MC's over the DJs was a new thing for me and that element as well as the sounds of whistles and shouts from the crowd at recorded events like "Dreamscape", "The Edge" and "Quest" gave the music an extra buzz and an atmosphere that made me really curious. It was a very exciting time.
Step 2: Introducing
The first release on Subtle Audio was by Alpha Omega – "Know How" and "Tribalist" were the tunes. I'd always been a fan of his releases over the years. Also, the Reinforced connection he brought was very significant for me. My first ever Hardcore / Jungle vinyl was one of the Reinforced Records releases – Enforcers 5. I bought it directly from them after I had written to them in '93 asking for a catalogue. The picture disk had that intimidating Metalheadz skull printed on one side. The music was raw and energetic, the imagery uncompromising, the whole thing caught my imagination.
The style of the label came from my own taste as a DJ and a listener. I grew up with the hardcore/breakbeat sound, whether it was dark-side, jungle, atmospheric, tech-step or whatever tags represented the breakbeat sound from 1992-1999. Unfortunately, after the turn of the decade I was hearing less and less of the kind of beats I liked. In 2000 I started to run a D&B night with some other DJs in my hometown of Limerick. This led me to meeting a lot of producers and DJs I respected from the wider scene. We always tried to book people based on the kind of music they played and not on popularity. I was getting CD's of tracks from some of the people we booked – a lot of the tracks were better (to my ears) than what I was buying in the shops at the time. Still, many of the tracks weren't in demand as most labels didn't want to release anything with chopped up breakbeats. Labels like Bassbin, Offshore and Inperspective were active around that time, but I figured there needed to be more labels like those if the breakbeat and experimental side of D&B was to survive. That was when I decided to take the plunge.
Again, I have to mention Reinforced in this respect. I always admired their music policy – it was quite varied but always remained true to the roots of the genre. They were never afraid to experiment and didn't really seem to follow trends. I wanted my label to be a home for the under-appreciated and under exposed styles of Drum & Bass. A project to help keep the roots of the music alive but also to develop new offshoots of the sound.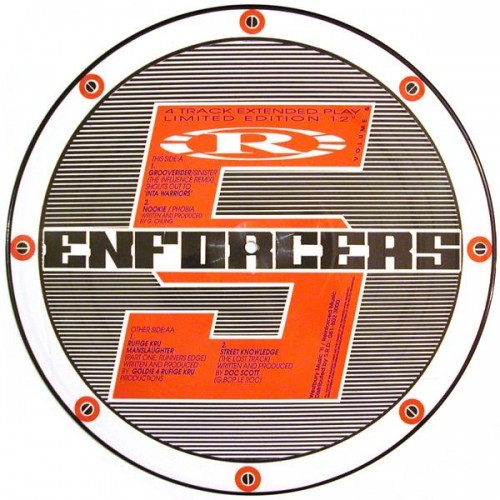 It did take quite a while to get the project off the ground. From the initial decision in the winter of 2003 to start the label, it took nearly 18 months to get the first releases into the shops. It took a while to get the logo to where I wanted it but that was important to get right and worth the wait. I just reminded myself of my favourite label logos and how I ended up painting them onto my binders at school – Reinforced, Moving Shadow, Formation, Brain Records etc – I wanted people to feel the same way about the Subtle Audio stamp. The other thing that took quite a while was securing distribution. I tried all of the active distributors of the time but in the end only Nu Urban, run by Phil Wells (aka Basement Phil) were prepared to take the project on. Unfortunately, Nu Urban is no longer in existence, but we're lucky to have ST Holdings doing our distribution now. I have always self-distributed the Subtle Audio releases through our official website too – this has made the label a lot more viable in terms of keeping a cash-flow going. Also, I liked the idea of getting in touch with fans of the music directly – just as I was able to do with Reinforced back in my early days of record collecting.
As for artists that helped to inspire the label sound – I'm going to have to leave out a lot of people here I'm sure, but artists like 4 Hero, FBD Project, Goldie / Rufige Kru, JMJ & Richie, Bizzy B, Nookie, Deep Blue, Hidden Agenda, Photek, Lemon D, Dillinja, Digital, Optical, Matrix, Dom & Roland, Roni Size, DJ Die, DJ Krust, DJ Suv, Bill Riley, Alex Reece, DJ Pulse, Wax Doctor, Alpha Omega, Sonar Circle, Seiji, Paradox, ASC, Equinox, Polska, Sileni, Fracture & Neptune, Macc, Dissident, Fanu, Senses and lots of others! Label wise – Reinforced, Moving Shadow, Rugged Vinyl, Suburban Base, Brain, Creative Wax, Metalheadz, Modern Urban Jazz, Partisan, Good Looking and many more.
Step 3: Foundation
Honestly, I don't really feel like we've had a release like that, one that really 'blew up' if you want to put it like that. We've had lots of small victories along the way – Bailey playing various bits on his 1Xtra show. Mary Anne Hobbs doing likewise on BBC Radio 1. Aphex Twin playing tracks by Fracture & Neptune and dgoHn tracks in his 2008 Coachella festival set. Rephlex licensing the Macc & dgoHn Some Shit Saaink album release. D&B Album of the Month in Mixmag for Subtle Audio Vol II, Thom Yorke (of Radiohead) charting a track from Nic TVG's album recently, etc. etc.
I think it's been a slow, steady build rather than a single release catapulting Subtle Audio into the public consciousness. But then, that's in keeping with the overall theme of the label. Music with longevity that might not always blow you away on the first listen, but that rewards repeated listens. Likewise, I can't really name a release I'm most proud of, I really like them all. I hate comparing music and trying to decide what's better than what. Different releases are good in different situations or at different times. I'd actually like to hear from the fans (do we have some?) as to which releases stood out for them.
Step 4: Present
[Nic TVG's] Then I Disappear was actually quite a while in the wings waiting for a release. I first spoke to Nic about the possibility of doing an album release early in 2011. So it took about two and a half years to bring it to the release stage. Of course there were a number of other releases in the meantime from NCQL and dgoHn (on vinyl) and also two releases following the launch of our new vinyl sub-label called Bustle Beats, not to mention quite a few digital releases on Subtle Audio as well.
Also we like to get quite a few releases ready at one time to help the customers who buy direct from our website to save on shipping. So, as well as the Nic TVG CD album + 12″ album sampler, there ended up being an Infest & Quasi 12″ and also the 3rd release on Bustle Beats by Nebula and Enjoy all going on sale at the same time. The extra work involved in getting artwork, audio and press ready for that many releases at one time did delay the Nic TVG project a little.
The good thing about that amount of time passing was that it allowed me time to digest all the available tracks properly and find the best combination that worked as a cohesive album. For example, "Lose The World On An Excuse" was one of the last to be added to the track-listing but I really think it added a nice touch of crazy to proceedings. Nic's work ranges from insanely heavy and complex breakbeat orientated stuff to more abstract and laid-back beat pattern styles. I thought something like "Lose The World On An Excuse" was needed to balance things up, so I was delighted when Nic was in agreement that it should be on the album.
Glad to hear that you like the video for "I'm Sorry I Puked On Your Dress". Really love it myself too. Carol is a friend of mine from my college days in Limerick, Ireland. She was in the art college in Limerick at the time and since then has studied further in that side of things in London. She's also one of my missus' best friends and so we've kept in touch over the years. She offered quite awhile back to do a video for the label and so when Nic's album project came up I thought it could be a good way to promote the release. "I'm Sorry I Puked On Your Dress" was originally released on the Subtle Audio Vol II compilation, but Nic did an edit of it for his album release to make it more suitable for video and also to differentiate it from the previous version that people already owned.
And yes, Carol is going to work on more material soon. She really likes Nebula's "Encounters VIP" tune which is coming out soon on the Subtle Audio Vol III CD release. I just sent her the audio a few days ago, so looking forward to seeing what comes back!
Also glad that you like the Infest & Quasi release – that was another one that was in the pipeline for some time. I wanted to make the release a three tracker, but it took quite awhile to find a suitable 3rd track, which ended up being "Does It Float" by Infest. Really glad I bided my time cos that's a real stunner. As for future releases, there's nothing planned right now, but I wouldn't rule it out. I talk to Infest quite a bit, we keep in touch and he always sends me his solo material and collaborations to check out, so there's every chance of further releases from Infest or another collaboration release by Infest & Quasi.
Step 5: Future
One track I'd like to mention is "Rhythm Test" by Enjoy which will be featured on the vinyl version of the forthcoming Subtle Audio Vol III release. Enjoy's got a really unique style in terms of the kind of patterns he makes with beats and has honed a unique break-layering style that's really interesting to my ears. If you're going to talk about the 'sound of the future', then this track is the most space-age thing I can think of on the release schedule right now. There'll be a preview online very soon all going well.
As for something you can hear online right now – I'd have to say dgoHn's "4.37445 Yards" made quite an impact on me when I first heard it (and it still does now). Again if you're going to talk about something future-facing this is a good example. The rhythm section is very ambitious, with break-layering, filters and all kinds of vocal cuts and stammers all contributing to the groove. The arrangement really flows so well too. I love how the bell riff disintegrates and gets f**ked around after the break-down. dgoHn is so uncompromising in how he realizes his ideas within a track, I love that about his work.
I could have mentioned NCQL's "The Framed Dreams Of Loki" here too, as I feel like that's another really fresh sounding piece of Drum & Bass. Guess I did now anyway – hahaha (very crafty, aren't I?!)
Next up on Subtle Audio is the aforementioned 'Subtle Audio Vol III', which will be released as a five-track 2×12″ vinyl and also a 3xCD with 26 unmixed tracks and a third CD mixed by myself. This is probably the closing chapter of this particular Subtle Audio compilation series. Lots of really good artists are involved including DJ Trax & Naibu, Enjoy, Nebula, Daat, Equinox, Indidjinous & Centaspike, dgoHn, Relapse, Parallel, Ibunshi, Brad Impact, Earl Grey, Aroma Nice, Nic TVG, Eschaton, Psycho Mantis and Pinkerator. The 4th release on Bustle Beats featuring D-Fect and DJ Future will be released around the same time. All these vinyls / CDs should be available in May this year all going well.
Beyond that there is the small matter of the 20th 12″ single release on the label, so we're coming up with ideas for that at the moment. There are also plans for a Code & Mecca release, which could well be SUBTLE020. Still trying to decide exactly what will go where.
I also have plans for a sub-label for my own music. Hoping to start that this year. If anyone wants to check some of the tracks for that, there are some up on my Soundcloud page.
As for an Urban Essential I couldn't live without? Does electronic music count as an 'urban essential'? If so, then that! Or if it doesn't, then recently, it's been books – I spend quite a bit of time commuting every week on the metro-line here in Montreal. It's been a good way to get back into reading which I haven't had time for in the last few years. Of course, I should really have said iPad there, or Kindle, shouldn't I? Then I'd have been all modern and 'urban' – but I am a country boy, so good old-fashioned quill on parchment works best for me!!
Keep you ears to the ground for more updates and more info on forthcoming material via Subtle Audio's Facebook, Soundcloud, and Twitter pages.
Comments