No Comments
Spotlight: VIVEK
If there's one person truly flying the flag for deep – no, positively subterranean – dubstep in 2013, that person is VIVEK. Release number one on his label System was a clear call-to-arms for the sound, not simply because the music was so, so on point, rather because 'Asteroids' / 'Over My Head' (the latter paired with a sublime 170 remix from man of the moment Om Unit) carried an equal amounts emotional weight as it did aggressive energy. No mean feat considering the sound's natural predisposition for aural hostility and just how insular the scene's become following on from the sound's distasteful move towards 'the other side'. A triumph of thematic strength over technical ability – dubstep's Narratives Music if you will. And with release number three's vinyl-only double pack having just hit stores, coupled with the glowing success of System:Sound's live events it becomes even more clear there's something special brewing in the air. So we thought it apt to get in touch with the man himself to talk System 003, the label's VA LP and the importance of the physical format.
Greetings VIVEK. Life treating you well?
Yeah i can't complain……
To take a recent example, Live From The Future provided a brilliant platform for the talent associated with Uprise. With so much good music about, would you say this sound has as much relevance in 2013 as it did back in the early 2000s? And what do you feel contributed to the move away from deep dubstep to the explosion of 'EDM at 140'?
I think the music is as strong as its ever been…. there are many producers who are pushing the sound again and its great to see. Music is always relevant, so the relevance of it hasn't changed. As for what contributed to the music becoming what it did…..there's a lot of factors to this…ultimately the more aggressive style became very popular….with that popularity came the potential to exploit the sound and make money. Instead of 300 people zoning out to bass, you have 2000 kids going nuts to music that sounds like transformers! It is what it is…..music has a funny way of going round in circles though…….
The eagerly anticipated third System release is set to hit stores imminently. Tell us a little about its process of creation and how you went about compiling the release…
003 is really the last of my old tunes that will ever come out. From here on in my releases will consist of music i have made more recently. So i went about trying to add tracks that were, in my eyes, diverse. I feel I've accomplished that. You can listen to the whole EP in one sitting and for me it flows well. 'Show Me' was a track i really wanted to put out. Actually this EP has made me realise that its not always about putting dancefloor tracks out……i've definitely changed in my approach to releasing music… there will be a lot more experimental tracks forthcoming.
Let's talk a little bit about System:Sound. What was the impetus behind its creation? It's performance has garnered rave reviews, you must be very proud of your 'baby'…
SYSTEM was basically a boyhood dream: build a soundsystem, play tunes with serious bass. It's going well, I'm enjoying it, it's a labour of love. It's also a family thing. My brother and best friend play music, my friends and cousins help out…. it's FAMILY. Like I've said before its not so much whose playing all the time, the vibe in there is incredible. The people have become regulars, i see then at every dance, and the sound, it's getting better every time. We are learning more and more every time we play out. In the grand scheme of sound systems we are babies at the feet of giants. That's how i see it.
System 003 is a vinyl exclusive – how large a role does the format play in terms of your approach to DJing and label management? Using vinyl live places you in that select group of those who not only just release the format but actively use it in your sets. Would you say vinyl is still a viable and secure option from a DJing point of view?
Each to their own on this subject. Vinyl is superior to everything else for what I do. I love mixing with it and I love the sound. Vinyl is still viable. Yeah some clubs don't look after their decks but generally it's DJs who don't know how to set up their tonearm than the club having dodgy decks.
[youtube_sc url="http://www.youtube.com/watch?v=yzXxZppdvbQ" modestbranding="1″]
And leading on from that, which is your favourite record and why?
Wow that's a very difficult one…… I have a lot of vinyl that are special to me but I think 'Asteroids' is my favourite as it was the first release on the label and it sounds exactly how i wanted it to sound on vinyl!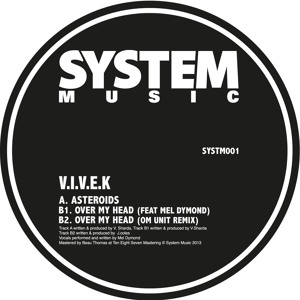 What's next for System both release and event-wise? A little birdie tells us you're planning a NYE special, can you give us any more info on that?
That's correct we will be running a dance to bring in the new year. I'm really looking forward to that. Release wise, after mine we are working on a LAS and Gantz EP which is straight fire and I'm going to be introducing a new artist who is making some amazing dub music. Hopefully I can continue to push the sound I love in the future!!!
And finally, what's the one Urban Essential you couldn't live without?
My Mac!!
V.I.V.E.K 'SYSTM003' is out November 25 on System Music.
Comments